Team
We would like to take this opportunity to introduce you to our team at the LTA Secretariat office in Bujumbura, Burundi. The office houses the LTA as well as the Regional Coordination Unit of the UNDP/GEF Project and our support staff.
We also have teams in each of the four riparian countries, called National Coordination Units (for ADB/NDF supported interventions) and Project Management Units (for UNDP/GEF supported interventions). The NCU and PMU teams play a key role in implementing the Lake Tanganyika Integrated Management Programme. You will find more information about these teams and their work under the link Participating Countries.

Dr. Henry
Mwima

 

Gabriel


Kaitira

Ebaka

Augustine

Martin

 

Christelle

Pacifique

Liliane




Simbotwe


Cynthia

Desire

 



LAKE TANGANYIKA AUTHORITY DIRECTORS
Executive Director of the LTA, Mr. Henry Kankomba MWIMA
Henry Mwima  (henry.mwima@lta-alt.org) has 20 years of senior institutional management experience. He is a wholehearted environmentalist, with extensive expertise in strategic management of protected areas in Southern Africa and in conducting research on wildlife and fisheries management. He has undertaken numerous consultancies in natural resource management and development of tools aimed at enhancing effectiveness in protected area resource management.
In April 2007, the Lake Tanganyika Conference of Ministers appointed Henry as the first Executive Director of the Lake Tanganyika Authority (LTA). Henry plays a strong role in providing leadership in the implementation of the Lake Tanganyika Regional Integrated Management Programme. He also serves as the principal liaison between the four Lake Tanganyika riparian governments of Burundi, Democratic Republic of Congo, Tanzania and Zambia and the partners who are supporting the programme.
Director Environment of the LTA, Mr. Gabriel HAKIZIMANA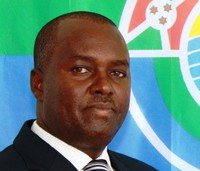 Gabriel Hakizimana (gabriel.hakizimana@lta-alt.org) has extensive experience in environmental research and management. He graduated in Environmental Sciences, and holds a global portfolio that includes training courses and workshops in Algeria, Burkina Faso, China, France, and Italy. His professional career includes eight years as Director of Environment, Research & Environmental Education at the Burundi National Institute for Environment and Nature Conservation (INECN). He was also a national focal point for the World Bank Multilateral Fund for implementation of the Montreal Protocol.
Gabriel is very familiar with the environmental problems in the Lake Tanganyika basin, and worked as Pollution Special Study Coordinator for the Lake Tanganyika Biodiversity Project, which preceded the current Lake Tanganyika Regional Integrated Management Programme. In his role as Director Environment, Gabriel is responsible for ensuring effective implementation of the environmental activities of the programme, which range from pollution control to sustainable catchment management and environmental monitoring.
Director Fisheries of the LTA, Mr. Kaitira Ibrahim KATONDA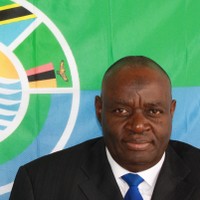 Kaitira Ibrahim KATONDA (kaitira.katonda@lta-alt.org) has over 30 years of experience of working in the fisheries sector in various capacities. He has been a Centre Director of several Fisheries Centres of the Tanzania Fisheries Research Institute (TAFIRI) on Lake Nyasa/Niassa/Malawi; Lake Victoria and Lake Tanganyika. On Lake Tanganyika, he participated as a Senior Research Scientist in the FAO/FINNIDA Lake Tanganyika Research Project, where he was also in-charge of the fisheries data from the four Lake Tanganyika countries. He worked briefly with Lake Tanganyika Biodiversity Project before he was appointed to work with the Lake Victoria Fisheries Organization (LVFO) in Jinja, Uganda . Kaitira has also been the Tanzania National Coordinator for the South West Indian Ocean Fisheries Project (SWIOFP).
As Director of Fisheries, Kaitira serves as chief advisor to the Executive Director on all matters related to fisheries planning, development and management of Lake Tanganyika. He plays an important role in the regional coordination of the Project to Support the Lake Tanganyika Integrated Regional Development Programme (PRODAP). Kaitira's goal is to promote a sustainable fisheries resources management on Lake Tanganyika for the benefit of the present and future generations in the Lake Tanganyika Basin in particular and the World in general.
Director Monitoring & Evaluation of the LTA, Mr. Augustine MUTELEKESHA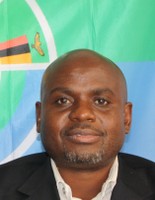 Augustine Mutelekesha (augustine.mutelekesha@lta-alt.org) has over ten years experience in programme planning, monitoring and evaluation, data management and data analysis. Augustine has extensive experience working with government institutions as well as development organisations in agricultural and environmental sectors.
As Director Monitoring & Evaluation, Augustine plays an important role in promoting accountability for the achievement of the objectives of the Lake Tanganyika Regional Integrated Management Programme. He assesses the results and performance of the LTA itself as well as that of the units that are implementing the programme in the riparian countries. Augustine is passionate about working towards sustainable management of natural resources for the betterment of the current and future generations in the Lake Tanganyika basin in particular and the world in general.
Director Administration& Finances of the LTA, Mr. Désiré EBAKA LOMPOMBI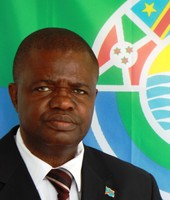 Désiré Ebaka (desire.ebaka@lta-alt.org) holds a BA in Economics, with a specialization in Enterprises Management. He has more than 25 years experience in Administration and Finances. He has spent over a decade managing Administration and Finances of local industrial enterprises in the DRC and 15 years working both with local as well as international Non Governmental Organisations, including BTC, CRS, and USAID.
As the Director of Administration and Finances, Désiré handles the administration and financial tasks of the Lake Tanganyika Authority. He plays an important role in budgeting and administering donor and governmental funding. Désiré has a keen interest in the overall development components of the Lake Tanganyika Regional Integrated Management Programme. In his spare time, Désiré is dedicated to community development projects and the promotion of private entrepreneurships.
Chief Technical Advisor Fisheries, Mr. Martin Vanderknaap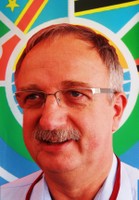 Martin Vanderknaap (Martin.Vanderknaap@fao.org ) has over 25 years post-graduate experience in Asia and Africa, with marine & freshwater fisheries, development & management, research, aquaculture & fisheries policy. This includes extensive project management experience, leading large, multi-discipline teams of specialists, relevant experience in the design, preparation, management, monitoring & evaluation of fish stock assessment, Coastal Zone Management, fisheries and aquatic resource projects for a range of donors. He worked with most major international funders of marine and aquatic resource initiatives, for example the EU, UNDP/FAO, Dutch bilateral funds, World Bank, GEF, AfDB, AsDB, SNV, IFAD and DANIDA.
LTA SUPPORT STAFF
Personal Assistant of the Executive Director, Ms. Alice Christelle Nijimbere
Alice Christelle (christelle.nijimbere@lta-alt.org) studied English and Administration as well as Tourism in Kenya. While working in the tourism sector, she mainly dealt with protocol issues for visitors from Francophone countries including Burundi, Rwanda and DRC.  After having worked in Kenya for 15 years, Christelle returned to Burundi.
Prior to her post with the LTA, she occupied various administrative positions in the private sector. In her role as Personal Assistant, Christelle is responsible for all the administrative and secretariat affairs of the LTA Executive Director.
Assistant to the Director of Administration & Finances, Ms. Liliane Debege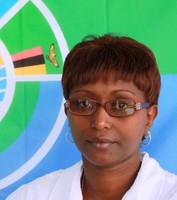 Liliane Debege (liliane.debege@lta-alt.org) has a degree from the Higher Institute of Commerce at the University of Burundi. Liliane has ample experience in the fields of administration, finance and logistics, and she has worked for various international organizations as well as several private companies.
In her role of Assistant to the Director of Administration and Finances, Liliane supports the implementation of financial transactions for the LTA, supervises cleaners and orderlies, facilitates travel arrangements for staff and visitors, and is responsible for office supplies and logistics.
Administrative Assistant, Mr. Pacifique Ndoricimpa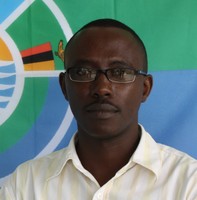 Pacifique Ndoricimpa
(
pacifique.ndoricimpa@lta-alt.org
), nicknamed Peaceful, has a BA in English Language and Literature from the University of Burundi. Pacifique has worked in various administrative positions in companies including a travel agency, commercial biomedical company, and a services providing company. Pacifique also spent a year working for a confederation of Information & Communication Technologies companies in Burundi.
As Administrative Assistant, Pacifique supports the various tasks of the LTA Directors. Since the Lake Tanganyika basin includes both Anglophone as well Francophone countries, relevant communications need to be done in two languages, and Pacifique assists the LTA with internal translations. He furthermore plays an important role as part of the team that created and maintains the LTA website. Pacifique feels strongly about supporting local communities and helping other people increase their chances for a better life.
REGIONAL COORDINATION UNIT OF UNDP/GEF PROJECT 
Regional Coordinator, Mr. Simbotwe Mwiya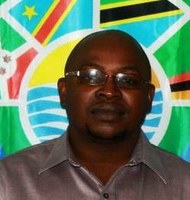 Simbotwe Mwiya (SimbotweM@unops.org) is a Zambian.  He holds a Bachelor of Science (BSc) in Biological Sciences from University of Zambia and a Masters Degree in Rural and Land Ecology Survey from International Institute for Geo-information Science and Earth Observation (ITC), Agriculture, Conservation and Environment Division, Enschede, The Netherlands.  Currently, he is the Regional Project Coordinator for the UNDP/GEF Project on Lake Tanganyika operating in Burundi, DRC, Tanzania and Zambia, within the framework of the Lake Tanganyika Authority. Before his current position, Simbotwe was the National Project Manager for the UNDP/GEF Project on Lake Tanganyika in Zambia. He has 17 years working experience of which 13 years has been with donor funded projects / International organisations focussing on Wildlife management; Environment and Natural Resources Management; International Waters Management; Climate change vulnerability assessment, mitigation and adaptation issues; Policy analysis and Inland Water Resources management.  The Institutions he has worked for include the Zambian Government as a Wildlife Biologist where he started his career; World Bank funded Environmental Support Programme as an Environmental Facilitator; International Union for Conservation of Nature (IUCN) on a CIDA funded project-Zambezi Basin wetlands Project as Project Officer in charge of the Zambian Component; USAID funded Community Based Natural Resources Management and Sustainable Agriculture (CONASA) Project as a Community Based Natural Resources Management Expert and a Programme funded by the Government of Finland (Programme for Luapula Agriculture and Rural Development) as a Fisheries Resources Component Coordinator/Advisor.  Simbotwe has a deep passion for the sustainable management of the Lake Tanganyika resources.
Administrative Assistant, Ms. Cynthia Barwendere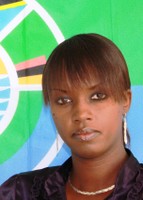 Cynthia Barwendere (CynthiaB@unops.org) graduated at the faculty of Business Administration and Management, University of Uganda. She also holds a degree in Accounting and Finance, as well as diploma in Microfinance and Community Economic Development. She also received training in finance, human resources and general operations at a local Burundi bank. Prior to taking up her work for the UNDP/GEF Project on Lake Tanganyika, Cynthia worked as Administration Manager in a law firm in Burundi.
In her position as Administrative Assistant, Cynthia plays an important role in supporting the Project Coordination Unit with a broad portfolio of activities. She is also very involved as part of the team that created and maintains the LTA website. Cynthia is very committed to charity, an active member of the local Lions Club, and spends most of her spare time with activities directed towards helping needy children.
Financial Officer, Mr. Désiré Hatungimana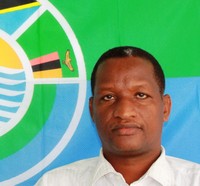 Désiré Hatugimana
(
DesireH@unops.org
) has a BA in Economics and Administration Sciences from the University of Burundi. He has over a decade experience in a wide range of activities including transport, logistics, procurement, accounting, budgeting, administration and finance. Désiré worked as Transport and Logistics Manager for two international transport and logistics companies in Burundi. He also served as Senior Accountant as well as Administration and Finance Manager for the Burundi Economic Development Institute, a Research Institute mainly funded by the African Capacity Building Foundation and the Government of Burundi.
In his position as Finance Officer, Désiré supports the Project Coordination Unit with budgeting and administering donor funding. Désiré is member of the Burundian Professional Accountants Association and the Burundian Internal Audit Association. In his spare time, Désiré is very active in promoting environmental protection through local Non Governmental Organization Enviro-Propre Dukingire Ibidukikije.